Professional Lawn Care & Landscape Services for Properties in Delaware, OH
We offer lawn care, landscape maintenance, and pest control services.
If you venture about 30 miles north of Columbus, OH, you'll come across the beautiful suburban city of Delaware. Delaware was founded in 1808, incorporated in 1816, and is home to over 42,800 people today. This city provides solace from its larger counterpart, though there's still much to do for everyone. For example, you can visit the Stratford Ecological Center, a farm and nature preserve where you can hike trails, say hello to the livestock, and more. You can also catch a movie at the Strand Theatre or go to Blue Limestone Park, where there's a playground and fishing pond.
Delaware is a shining city in Ohio, and we offer professional lawn care, landscape maintenance, and pest control services to help properties here shine just as bright. Let our team at Hoffmans Lawn & Fertilization show you that your dream lawn and landscape are possible with us!
---
Improve Your Lawn With Our Lawn Care Services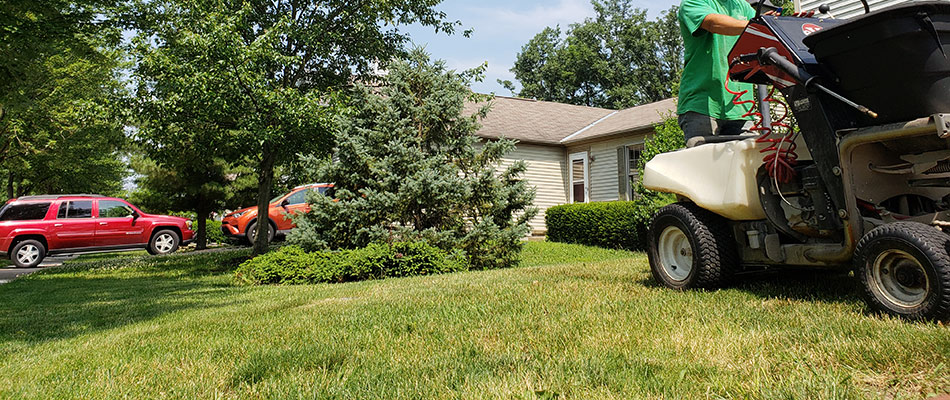 Lawn care is vital to keeping your grass at its best year after year. Fortunately, that's where we come in - we'll improve your lawn with the following services:
Lawn Fertilization: Our 6-step fertilization program begins in March/April and ends in October/November. That way, your turf has a consistent supply of nutrients to thrive throughout the growing season.
Weed Control: We'll apply pre-emergent weed control treatments twice to get ahead of weeds before they surface on your lawn. Then, we'll use post-emergents for the rest of the year to eliminate any existing weed growth. Some common weeds we tackle include dandelions, clover, nutsedge, and chickweed.
Lawn Insect Control: We'll apply our lawn insect control treatments four times from May until October to kick pests to the curb, including chinch bugs, ants, fleas, and armyworms.
Lawn Disease Control: We offer preventative and curative lawn disease control treatments to prevent and eliminate fungal diseases, including red thread and dollar spot.
Aeration: We'll perform core aeration to remedy compacted soil and improve nutrient access to the roots of your grass.
Overseeding: Our overseeding service is just what you need to fill in bare and patchy areas on your lawn and make your turf thicker. We also recommend pairing it with aeration to yield the best results!
Lawn Renovation: If your lawn is struggling to grow healthy grass, our lawn renovation service is for you! We'll tear up any problem areas on your turf before tilling the soil, spreading seeds, and applying fertilizer.
We offer our lawn mowing service from April until November to keep your grass tame and at an ideal height!
---
Our landscape maintenance services include plant trimming and pruning, yard cleanups, and more.
Keeping your landscape in tip-top shape is a lot of work, but we're here to take it off your hands! We offer landscape maintenance services to keep it pristine and manicured, which are as follows:
Landscape Bed Weed Control: We'll spray or hand-pull the weeds in your landscape beds to ensure your plants don't have to compete for nutrients and space. You can even choose to have us come out weekly, bi-weekly, or every three weeks.
Tree & Shrub Disease & Insect Control: We offer preventative disease and insect control treatments to protect your trees and shrubs from infections and infestations. Meanwhile, our curative treatments will eliminate an existing fungal disease or insect infestation to get your plants back on the road to recovery.
Trimming & Pruning: We recommend trimming and pruning your plants in the spring and fall to enhance their natural shape and keep them healthy.
Mulch & Rock Installation: We can install mulch or rock ground coverings in your landscape beds to boost their aesthetics and provide health benefits to your plants.
Leaf Removal: For our leaf removal service, we'll blow the leaves to the curb and use a vacuum truck to remove them from your property.
Yard Cleanups: We offer yard cleanups in the spring and fall, where we'll trim your shrubs and pull weeds, edge, and add mulch to your landscape beds.
Bush Hogging: We'll tame your property by clearing out overgrown brush.
---
Mosquitoes, Fleas, Ticks, & Other Pests Won't Stand a Chance Against Our Pest Control Services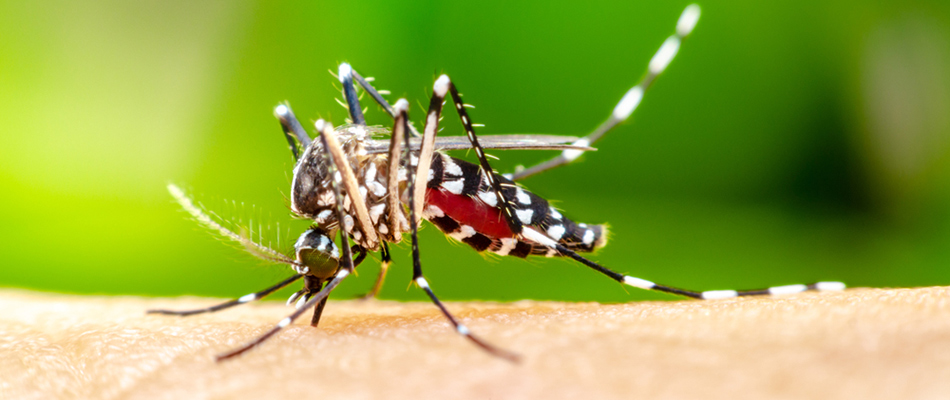 Pests are the last thing you want to deal with, whether they're inside or outside. Fortunately, they won't stand a chance against our pest control services:
Perimeter Pest Control Program: We'll apply our perimeter pest control treatments to the foundation of your home or business, entryway, and any cracks and crevices. That way, pests can't invade your inside space and disturb your peace.
Flea & Tick Control: Our flea and tick control treatments, which we'll apply four times from May until October, will protect you and your furry friends from unwanted hitchhikers.
Chigger Control: Save yourself from uncomfortable chigger bites with our chigger control treatments.
Mosquito Control: Our mosquito control treatments will drastically reduce the mosquito population on your property and repel any more from harboring on your property.
---
Call us to sign up for any of our lawn care and landscape services.
At Hoffmans Lawn & Fertilization, we offer lawn care and landscape services to residential, commercial, and HOA property owners in Delaware, OH. Whether you need fertilization, yard cleanups, perimeter pest control, or anything in between - you can trust that we'll exceed your expectations and do it right the first time. Call us at (740) 318-5296 to sign up for any of our services!